Welcome to Fill In / 填充 #5 and a belated welcome to 2021. After a hiatus over the winter, we're back in time for Lunar New Year to begin anew with our blog and newsletter.
We took a break as we have been reflecting and reorganizing ourselves following some changes to our project plan. Who knew that when we began this in 2018, excitedly discussing the possibilities of our little collective, that the world would be like it has been over the last two years and set for another difficult one. But however we can, we're staying flexible and thinking of the long game.
And so we return to sporadic publishing of things we have been keeping our eye on, stuff that brings us joy, and words that give us food for thought for the next year of project scheming…
_Eat_ _食用_
If there's any way to best start the year, it's by planning what to eat for LNY. As many of us will have to hold back from gathering this year, there might be some change of plans for dinner. In the UK, we've been keeping on top of Jenny Lau's page Celestial Peach, for quick plant-based recipes from across Asia shared through the community, incredible talks around food, diaspora and kinship, and finally mouthwatering desserts in the #asiandessertexchange project, deemed a kind of 'Secret Santa for Asian desserts'. Asian Dessert Exchange has been the momentary replacement for the regular potlucks held at the Hackney Chinese Community Service Centre, but the new format has equally brought together so many BESEA from across the UK. Look out for more events during LNY.

_Join_ _ 連結 _
As is custom this time of year, many calls for application have just been released (and luckily some extended!). One we hope to join is the postponed Design History Society annual conference from 2020 'Memory Full'. With the events of the last year, stuck inside with our screens and our heads, the title feels particularly pertinent to this moment. With the events of 2020, the convenors have also shifted to plan for both online and physical presence for the conference, which offers access to participants from all over the world. The application deadline has just been extended to 1st March.

Another exciting application is for the new Asymmetry Curatorial Fellowship at Whitechapel Gallery in London for mid-career curators who are nationals of Mainland China, Hong Kong or Taiwan. The fellowship is fully funded by Asymmetry and organised in collaboration with both Whitechapel Gallery and the Delfina Foundation. Deadline is also 1st March.

Finally, for something closer to home, the Hong Kong Studies Program HKU, Dept of Sociology at HKBU and Hong Kong Studies Initiative at UBC are putting together an online workshop on 'Hong Kong Popular Culture: Imagining a Research Field' to expand ideas and approaches to Hong Kong popular culture and cultural history. Deadline to submit a presentation is by 15th February.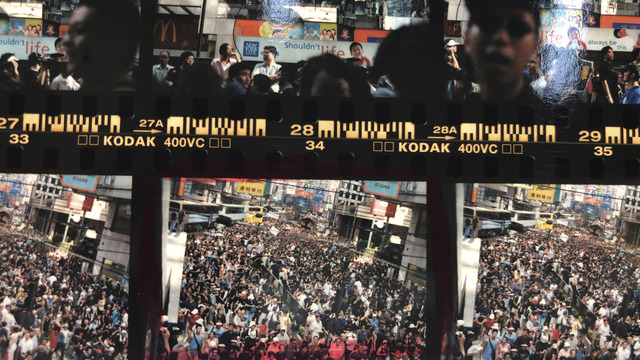 _Read_ _ 閱覽 _
Speaking of lunch, we recently read Mimi Wong's 'Lunch Special' on Cicada magazine, a new online literary journal based out of Hong Kong 'with a focus on writing that is generative, nuanced, experimental, and inclusive.' Most of all, the journal is not limited to one form but includes fiction, non-fiction, translation, and poetry published in English. Hong Kong has long had a lively literary scene, with an increasingly vibrant community of young writers writing with multilingual, multicultural contexts and experiences. They are currently taking submissions 'from anyone, anywhere, and are especially drawn to transnational perspectives, traditionally marginalized voices, and the global narrative.'

Also a brilliant article about Wei Leng Tay's Abridge Project by Olivier Krischer was published on TAP, interviewing her about the tension between using film photography and documenting Hong Kong as it is now. Especially in the last few years, the city has been chronicled into oblivion through both iPhone photos posted on social media as well as professional reportage photographers on the ground. Through her photographs and interviews, she sought to cultivate and 'define a public understanding of the frontline' and place herself in the space, but also tackle the intentionality of her past archive of work by working with the materiality of the photograph. The piece hits on how the photograph is not only on the content and meaning of the image constructed, but also the holistic, tactile approach to making photography.
_Watch_ _
Recently Hong Kong Institute of Humanities and Social Sciences have also moved their seminar and lecture series online. We're especially looking forward to this talk by Dr. Ghassan Moazzin on 'Electric China: A History of the Chinese Electrical and Electronics Industries, 1870 – 1937' engaging with the business of electrical appliances and technology in China, and also Chinese consumer use of electrical goods in their daily lives. The talks can be joined live, or you can revisit them on the HKIHSS Youtube.
For maybe more therapeutic watching, since deciding to close their exhibitions to the public, CHAT have been working on bringing stories to us at home through their Youtube videos, Instagram stories and Zoom talks. Their recent series Makers of Hong Kong takes us out of the exhibition hall and all over Hong Kong to meet Hongkongers making in a hands-off society. The first episode took us to Cheung Chau to learn about traditional knotted fishnets from the fishing community, and the second followed tailor Siu Lan around Sham Shui Po as she reignites her tailoring business after many years of retirement. Both reveal a kind of public revival and interest in local makers as the term 'Made in Hong Kong' ceases to be valid, and hand skills begin to 'die out' over generations (check our previous newsletter for more on this theme!). All over the world we have seen an uptake in home-making, with the onslaught of 'cottagecore' taking us away from screens to reach for the knitting/sewing needles, it's both encouraging and important that there is record of where these practices have come from. _Listen_ _聽說_
Just this last week, the Manchester Museum Podcast launched their season 2 with 'How do everyday objects tell our stories?', a conversation between curator and community producer for the Manchester Museum's China Culture Gallery, Tiffany Leung and artist, writer and lecturer Dr. Denise Kwan, on Kwan's project 'Object-Stories of British Chinese Women'. Collated as part of her PhD at University of Westminster, the project shares the journeys of diasporic Chinese women in the UK through their everyday objects. We've long admired the Object Stories project, and the stories shared by these women speak to the complicated relationship of objects, where they come from, their meaning and how it is 'made' through the journeys they made.
_Notice_ _啟事_
And as the elusive 'Hong Kong archive' has become more of a public concern, social media platforms have increasingly been open-access, open-source spaces for Hong Kong's history to be explored. 25k follower strong Instagram account @oldhkincolour has recently been featured on the University of Bristol Visualising China blog, explaining their process of data-gathering and visualisation of Hong Kong in it's full-colour, HD, animated glory. The HKinColour team are interested in developing their approach to 'AI-driven image restoration and 3D rendering of historical photographs' as a historical research method. There's no disputing that there are so many images of Hong Kong and there's so much richness to be found in different research approaches and techniques. One of these days we'll publish a blogpost with some of our favourite Hong Kong Instagram accounts – stay tuned!
With a new academic year upon us too, more online talks programmes and Cfp's are back with maybe a bit more experience from 2020's Zoom-inar marathon. And we're excited to see that there is increasingly more interest in the archive as part of the current discourse of Hong Kong. UBC's Hong Kong Studies Initiative will complete their City Archived seminar series with an introduction to Dr. Andy Chin's Cantonese language archive 'The Corpus of Mid-20th Century Hong Kong Cantonese'《二十世紀中期香港粵語語料庫》gathering data from Cantonese movies produced between the 1940s and 1970s. You can also find HKSI previous talks from the series on their Youtube channel, including one by Brian Kwok on his recent book on Hong Kong's neon lights.
_HKDHNet_ _ 我們 _
For us, we have been slowly reworking our project as we navigate more highs and lows. But we're also thinking about the near and far future and trying to spark some different avenues of enquiry, both individually and collectively.
Some have involved more friends along the way; most recently Vivien and Juliana interviewed Alvin Li and Junyuan Feng for a publication by Geofictions, a design research studio founded by design research Zara Arshad and media artist Yaloo, which will be published soon. Sometimes a whirlwind project just injects a bit of excitement into what has been a long and sometimes arduous part of the process. We've still got some ideas up our sleeve… which we hope we can focus on more once things get going, but as the world becomes more unpredictable, we have got used to going through the motions. In the meantime, we would love to hear from you – have you got a blogpost brewing that could live on HKDHNet? Let us know at hkdhnet@gmail.com or send us a DM @hkdhnet.